We're excited to announce some updates to our Mastercard® Debit Cards!
Mastercard® Debit Card Limits:
$505.00 ATM Withdrawal
$1,505.00 for POS Transactions
If you need to activate your debit card, please call 1-800-992-3808. You can set up your pin at the time of activating. If your card is already activated and you wish to change your pin, you can call this number to reset.
To report a card lost/stolen or for questions about your card account – please call 833-328-7357, to initiate a dispute for fraud or non-fraud transactions – use 833-328-7358.
Plus, you can now enjoy these free perks that come with your ACECEFCU Mastercard® Debit Card:
CardValet®
Receive mobile alerts whenever your card is used
Track card usage history
Set purchase limits to manage spending
Turn your card on and off for an added sense of security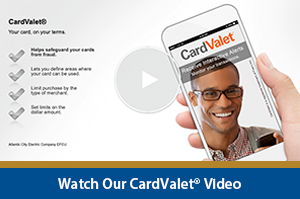 uChoose Rewards®
Earn points every time you use your Atlantic City Electric Company Employees FCU Mastercard® Debit Card!
Redeem your points for gift cards and other rewards at uchooserewards.com

Mastercard® Wallet Tokenization is here!
Accessing your debit card is now available with the tap of a finger. Link your ACECEFCU Mastercard® in Apple Pay®, Samsung Pay® and Google Pay™ and view your recent activity and access our mobile app to view more information on your account.